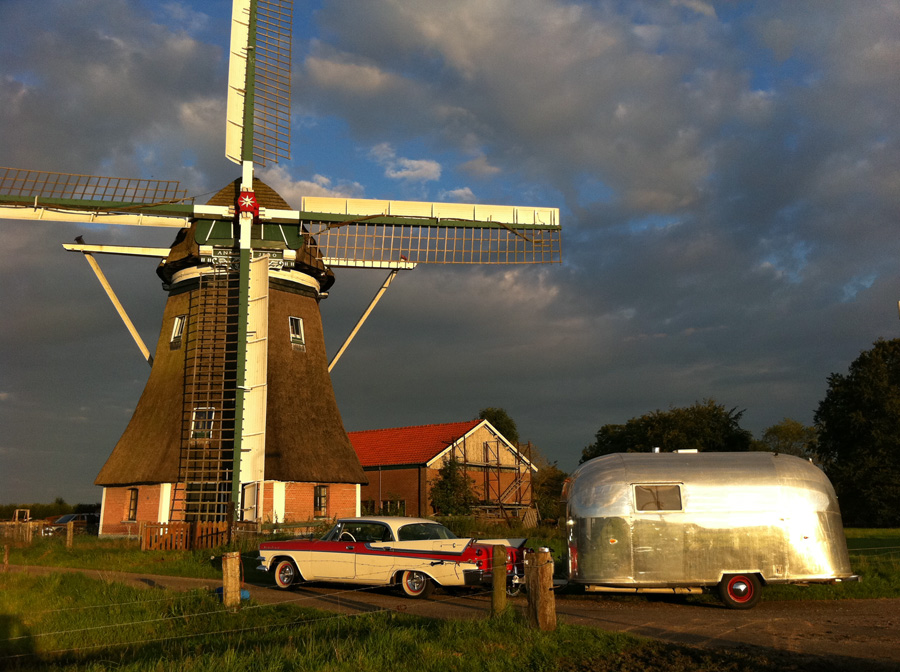 ---
This is my beautifully, rare 1959 Vintage 18 Foot Airstream Traveller,
with the unusual bunk bed option and split window. Travellers were produced between 1958 and 1960,
forerunner of the ever popular Bambi, starting production in 1961. With just 60 cm more in length,
the Traveller has a far more user-friendly floor plan than the Bambi, while it still has that
classic small Airstream travel trailer look the Bambi is so much appreciated for.
Every effort has been made to keep this trailer as original as it was when it left the Airstream Factory.
The exterior has been polished, tongue and rear bumper painted. The skin is in excellent condition,
with the normal small bruises associated with a 55 year old (!) trailer. The interior has new paint.
All the original cabinets have been refinished. She has all new water and Propane lines.
A new vinyl tile floor, as close to factory as could be found, all original 110v, and all windows function.
Has a large wardrobe, and a commode, not usually found in this size trailer.
All that is needed to finish this extraordinary trailer up, is some curtains of choice,
and we are ready for the road!
She has a USA title, brand new tires and the bearings have been packed. Wired for a round 7 point connector.
With a dry weight of 750 kg, a tongue weight of under 100 kg, requiring a 2" ball and a hitch height of about 50 cm,
she can be towed with just about any vehicle.
She still has her original factory certificate attached to the inside of the cupboard door.

Length x Width x Height: 5,49 x 2,44 x 2,59 meter
Length body without tongue: 4,67 meter

We have a separate brand new Dexter (original Airstream supplier) axle with Dexter electric brake drums,
with hand brake. Just never found the time to mount them.
There are also many more useful parts with her. Again, just never found the time.

Photos can be seen by clicking the USA and Meetings tabs in the menu up above in the right corner.
---